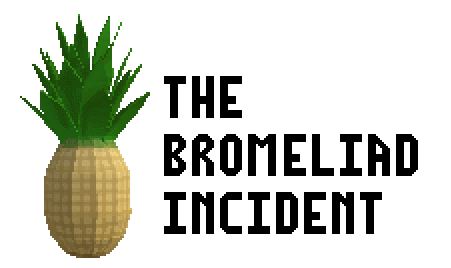 The Bromeliad Incident
A downloadable game for Windows, macOS, and Linux
---
The elevator door opens, revealing a room you didn't even know this building had. At its center, a pineapple sits on a dusty altar, surrounded by scattered papers and boxes.
Something about this feels fundamentally wrong, and the hair on the back of your neck stands up.

This place shouldn't exist...

Every sensible part of your brain screams at you to leave. But you feel something beckoning. You're drawn closer, and, unable to stop yourself, you reach out to touch the mysterious fruit before you -
---
The Bromeliad Incident is the story of the end of the world. Fire rains from the sky, the Earth shakes below you, thunder rolls, and the sun, wretched and bloated and dying, looms large above.
Your only friend is the pineapple, and it will guide you in its own special way, and bring a pleasant fruity scent to the otherwise acrid and choked atmosphere. Collect the pellets, find the exit, and do your best to not die in the process. And most importantly: watch the skies.

The world will be different each time, and some things will certainly be missed in only a single playthrough. There are multiple difficulty options, as well, for a generous increase in the amount of death and destruction if desired.

---
TBI was created after I was given a challenge to make a game based on the first result from a random game idea generator. Obliging, I was presented with the following:
"A sci-fi game where you explore a maze led by the most ridiculous pineapple, but everything is on fire."
I do hope the game lives up to that wonderful description. And if you download it - thank you. If you purchase it, you are officially a Cool Person. But overall, I hope you at least have a bit of fun with it.

-NovaSilisko

---
Version History
v1.1.0
- Changed version number
- Three exciting new ways to die
- Added "low-fidelity" mode - if enabled, the game renders at a lower resolution with a reduced color depth
- Pixel scale for the UI and low-fidelity mode can be adjusted (from 2x to 8x) for a better (worse?) look on higher resolutions
- Added new props and scenery to the level generator and improved several existing ones
- Better looking destruction effects for scenery objects
- Walls and trees can now spawn with different mesh variations
- Improved particle effects for fire and meteors and explosions
- Pineapple has been given a brain transplant
- Pineapple incubation office now much more detailed and interesting
- The quadcopter is now better at displaying where pellets are
- Deatomizer has been given a laser sight and can now shoot down meteors, if you aim well enough
- End screen now displays seconds as well as minutes
- Minor GUI visual improvements, sounds added
- Added freshly-brewed HYPER BEAN(tm) coffee
- Slightly increased movement speed and sprint duration, but jumping now drains a small amount of stamina
- Made fire extinguisher suck less (longer range, faster action)
- You can now manually set the generator seed in the config file, if you want to play the same map again (set it to 0 or leave blank for random)
- The last map's seed is outputted to a text file for later use if desired
- Fixed beacon particles not actually continuing
- Fixed items occasionally spawning in walls
- Fixed ambient wind sound not perfectly looping (augh)
- Fixed bug where invalid rooms could still partially generate
- Fixed running footsteps not playing properly
v1.0.1

- Changed version number
- Mac (slightly tested) and Linux (not tested) versions now available
- Minor texture and sound tweaks
- Beacon particles now continue
- Deatomization made more visceral

v1.0.0
- First release

| | |
| --- | --- |
| Status | Released |
| Platforms | Windows, macOS, Linux |
| Release date | Dec 26, 2016 |
| Rating | |
| Author | NovaSilisko |
| Genre | Adventure |
| Tags | Atmospheric, Destruction, Experimental, fire, maze, meteor, pineapple, Procedural Generation, Roguelike, Short |
| Average session | A few minutes |
| Languages | English |
| Inputs | Keyboard, Mouse |
Download
Click download now to get access to the following files:
The Bromeliad Incident v1.1.0 - Win.zip
45 MB
The Bromeliad Incident v1.1.0 - Linux.zip
63 MB
The Bromeliad Incident v1.1.0 - macOS.zip
61 MB